New faster LEAF PLUS Provides Quicker Charging and More Range
July 15 2019, Trevor Hofmann - Canadian Auto Press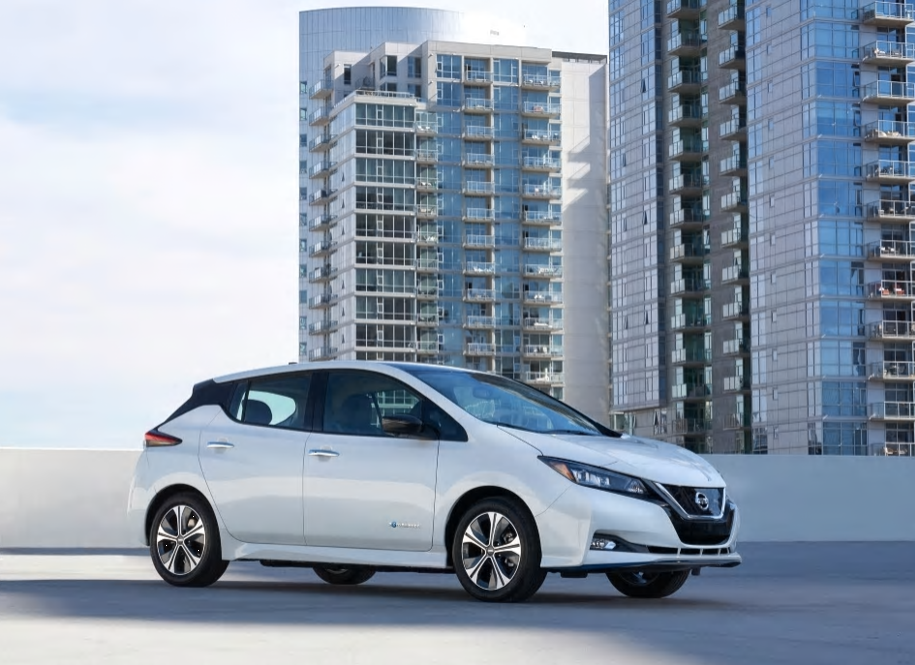 Number One for Good Reason
It's no secret that the Nissan LEAF is the world's most popular electric vehicle, with more than 390,000 units sold since it arrived on the global scene nine years ago.
Now Nissan is introducing the all-new 2019 LEAF PLUS, and by so doing is upping the ante with two advanced power units in order to satisfy even more electric vehicle buyers, and what's more, both of these new LEAF models are more capable than what was on offer for the 2018 model.
Halfway into last year, Nissan brought its 2019 LEAF to the Canadian market with a 16kWh larger Li-ion battery that made a total of 40kWh, and mated it to a more potent 110-kW (147-horsepower) electric motor, which increased the EV's fully charged range to 243 kilometres, an improvement of 69 km.
Now, only a third of the way through calendar year 2019, the LEAF engineering team has outdone themselves with the new LEAF PLUS, a more capable EV that adds an additional 22 kWh of battery power for a much stronger 62 kWh, and connects it through to a new 160 kW (214 hp) electric motor, resulting in 120 km of extra range, for a much more utile 363 km total.
"With the addition of LEAF PLUS, the Nissan LEAF is now available with two battery options and a choice of four trim levels - each featuring the many advanced technologies offered under the banner of Nissan Intelligent Mobility," stated Steve Rhind, director of marketing, Nissan Canada Inc.

Competitive Pricing and Filled with Features
This said, EV buyers who are focused more on value than extending battery range and improving straight-line performance can still purchase the regular LEAF in nicely equipped mid-range SV trim for just $40,698, plus freight and fees, but the step up to the more formidable LEAF PLUS model only takes another $3,300, with an entry price of only $43,998. That's new LEAF S PLUS trim, whereas the LEAF SV PLUS starts at $46,598, and new top-line LEAF SL PLUS can be had for $49,498.
Of note, at the time of writing there was still a 40kWh-powered 2019 LEAF S available from just $36,798, so make sure to contact North Vancouver Nissan in order to take advantage of this value-priced leader while you still can.
A few differences between the regular LEAF and new LEAF PLUS include revised front and rear fascias featuring unique blue highlights, an "e+" logo plate below the charge port lid, and reworked trim designation badges featuring the "PLUS" logo.
With respect to the new entry-level LEAF S PLUS, it gets standard Intelligent Forward Collision Warning (I-FCW), Rear Door Alert (that sends a reminder upon arriving at your destination if you've left something or someone in the back seat), and a 1.0-inch larger centre touchscreen that now measures an impressive 8.0 inches.
Also noteworthy, both regular LEAF SV and new LEAF S PLUS trims feature navigation with detailed mapping as standard equipment, plus Apple CarPlay and Android Auto smartphone connectivity, XM-SIRIUS satellite radio, and more, but take note that you will need to choose SV trim if you also want voice recognition, NissanConnect EV (for remotely connecting your smartphone to the infotainment system), two more stereo speakers for a total of six, and more.

No Shortage of Options for Getting the Most out of Your Leaf
Additionally, both the regular LEAF SV and the LEAF SV PLUS include larger 17-inch alloys, fog lamps, an electric parking brake, an auto-dimming centre mirror, a Homelink universal remote, an eight-way power-adjustable driver's seat with two-way lumbar, and a cargo cover.
Also on the standard SV features list is a comprehensive suite of advanced driver assistance items like Automatic Emergency Braking (AEB) with pedestrian detection, High Beam Assist, Intelligent Cruise Control with Full Speed Range and Hold, the ProPILOT Assist semi-autonomous self-driving system, Steering Assist, Blind Spot Warning, Intelligent Lane Intervention, and Rear Cross Traffic Alert.
Just because you're rolling in an ultra-clean zero-emissions car doesn't mean you need to go without premium-level creature comforts, so you may want to consider opting for the top-tier LEAF SL PLUS that boasts wonderfully attractive two-tone black and grey perforated leather and Bio Suede PET cloth seat upholstery, Nissan's Intelligent Around View Monitor to ease parking, Driver Attention Alert, an even better sounding seven-speaker premium Bose audio system, turn signals within the side mirror housings, plus more.

Quicker off the Line and Capable of Much Greater Distance
Together with its impressively long range, allowing the new LEAF PLUS to be driven 50 percent farther than the regularly-powered LEAF, which will no doubt be an amply good reason to step up to the enhanced model, the LEAF PLUS can also sprint forward 13 percent faster, which provides the type of speedy performance most driving enthusiasts would happily pay more for. This allows LEAF PLUS owners to more "confidently pass slower-moving vehicles, exit corners faster and more seamlessly, and merge easily with fast-moving traffic," stated a Nissan Canada press release. What's more, the LEAF PLUS delivers 10 percent more top speed, providing it with "comfortable cruising" capability, added Nissan.

Faster Recharging a Key Reason to Choose Leaf Plus
While it can be fun and helpful to go quickly, fast charging is even more important in the world of electric vehicles. Therefore, every new LEAF PLUS trim comes standard with a 100kW-capacity quick charging system capable of replenishing the battery to 80 percent in only 45 minutes. As impressive, it only takes another 5 minutes (50 minutes total) to achieve an 80-percent charge when using a 75-kW DC quick charger, or just an hour when hooked up to a 50-kW DC quick charger.
Regular LEAF owners will need about 40 minutes for an 80-percent refill when connected to a 50-kW DC quick charger, although it should be noted that the regular LEAF isn't designed to accept 75-kW or 100-kW DC faster chargers.
Of course, the regular LEAF can be charged with a 240-volt home or public charging station too, requiring about 8.5 hours from near empty to replenish. Alternatively the new LEAF PLUS needs approximately 11.5 hours to fill, although if you just need a quick charge to get home, that same 240-volt station can add 35 km of range in about an hour.
So how do the two new LEAF models measure up with respect to fuel economy? If you're not familiar with Transport Canada's electric vehicle rating system, Le/100km ratings are assigned to each new model for comparison purposes only. Obviously no litres of gasoline are used in a pure EV such as the LEAF, but for the purposes of comparing an electric vehicle against a similarly sized compact hatchback with a conventional powertrain, or for that matter another competitive EV, a standard formula takes electric power sources into consideration. As you may have expected the LEAF and LEAF PLUS are ultra-efficient, with the former good for 1.9 Le/100km city and 2.4 highway, and the latter capable of 2.1 Le/100km city and 2.5 highway.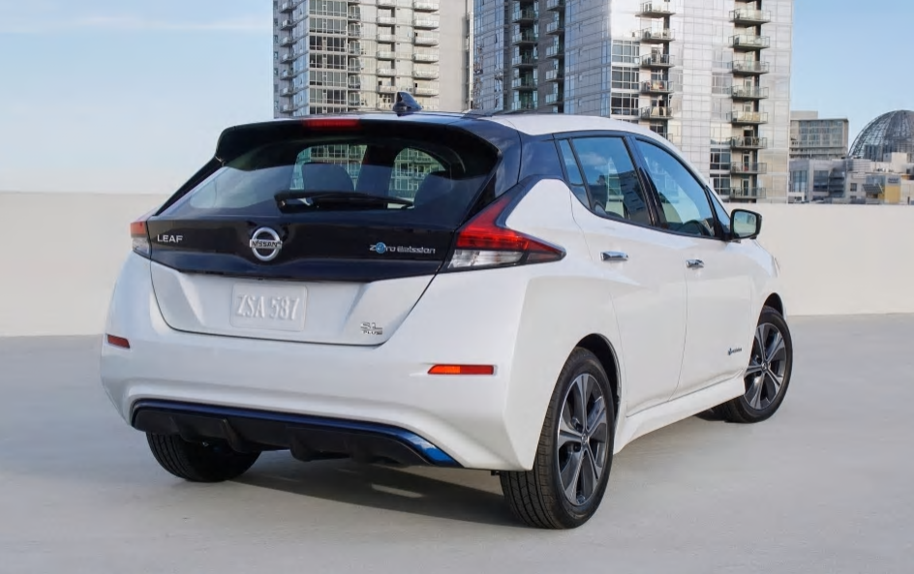 Both LEAF Models Provide Equally Large and Spacious Cabins
The LEAF has long been lauded for its large, spacious and comfortable interior, and the good news here is that both the regular LEAF and new LEAF PLUS are identically sized from the outside in. This means most adults will fit comfortable within the driver's seat as well as the rear passenger compartment, while cargo volume remains excellent at 668 litres behind its 60/40-split rear seatbacks when they're upright, and 849 litres when they are laid down. What's more, those folded seats provide a nice flat cargo floor that's ideal for keeping loads right side up.
With a new 2019 LEAF lineup that can deliver two unique types of ownership experiences, all you need to do is either choose the initial savings of the LEAF SV, together with its impressive standard features list, or opt for the new LEAF PLUS that delivers even more impressive charging capability, plenty of extra range, and stronger straight-line performance.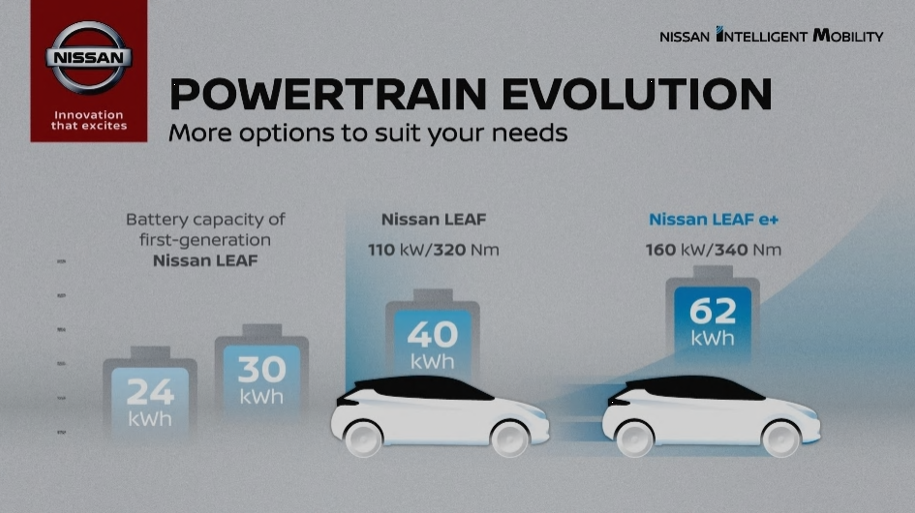 To learn more about the 2019 Nissan LEAF and LEAF PLUS, contact us or visit us in our showroom in Vancouver.