EV Sales Leader Nissan Extends Sponsorship of National Drive Electric Week Through 2017 Sales Leader Nissan Extends Sponsorship of National Drive Electric Week Through 2017
June 11 2015, Nissan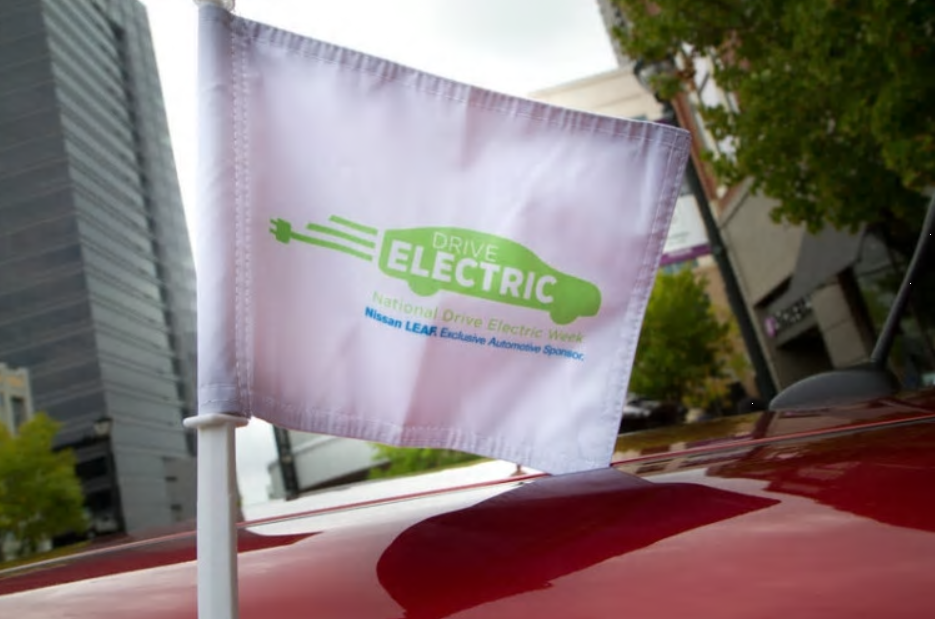 SAN FRANCISCO - Plug In America announced today that Nissan will serve as the exclusive automotive sponsor for National Drive Electric Week through 2017. National Drive Electric Week, the largest annual organized gathering of plug-in vehicle drivers, celebrates its fifth anniversary this September with test drives and other activities planned in cities throughout the U.S. and beyond.
"Nissan is a driving force in the plug-in vehicle industry, with the top-selling electric vehicle, Nissan LEAF, and with investments in charging infrastructure and consumer education," said Tom Saxton, Plug In America's Program Manager for National Drive Electric Week. "Nissan's support of National Drive Electric Week helps Plug In America with our efforts to rapidly increase adoption of EVs of all kinds in cities across the U.S."
National Drive Electric Week is based on the idea that nothing beats ride-and-drives in clean, quiet and powerful plug-in vehicles for converting gasoline-car drivers to EV owners. The event, designed to showcase the fun, cost-savings and clean-air benefits of plug-in vehicles, was launched in 2011 in 29 cities, growing to more than 150 cities in the U.S. and abroad in 2014. Plug In America, the Sierra Club and the Electric Auto Association team up with local groups to organize events, which typically feature all-electric and plug-in hybrid electric cars from every automaker on the market.
Nissan and the all-electric LEAF have served as the event's exclusive automotive sponsor since 2013.
"From the moment we launched Nissan LEAF, we quickly found that LEAF owners are our best salespeople," said Andrew Speaker, Director, Nissan Electric Vehicle Sales and Marketing. "We are continuing to support National Drive Electric Week because this event helps bring owners of LEAF and other EVs together to share their experience and educate consumers on the benefits of driving electric cars."
With more than 178,000 global sales and more than 80,000 in the U.S., Nissan LEAF is the world's best-selling electric car. LEAF features seating for up to five passengers and boasts an EPA-estimated* driving range of 84 miles on a fully-charged battery and MPGe ratings of 126 city, 101 highway and 114 combined.
The starting price of a Nissan LEAF is about $22,000** in the United States after the maximum available federal tax credit, and can be lower in states and localities that offer additional credits or rebates. LEAF offers the benefits of lower running costs and less scheduled maintenance. Nissan manufactures LEAF and its battery pack at its plant in Smyrna, Tennessee.
National Drive Electric Week will take place Sept. 12 through 20. To organize or attend an event, visit https://driveelectricweek.org/events.php.
Source: Nissan News