2019 Nissan Micra S Road Test Review
January 16 2019, Trevor Hofmann - Canadian Auto Press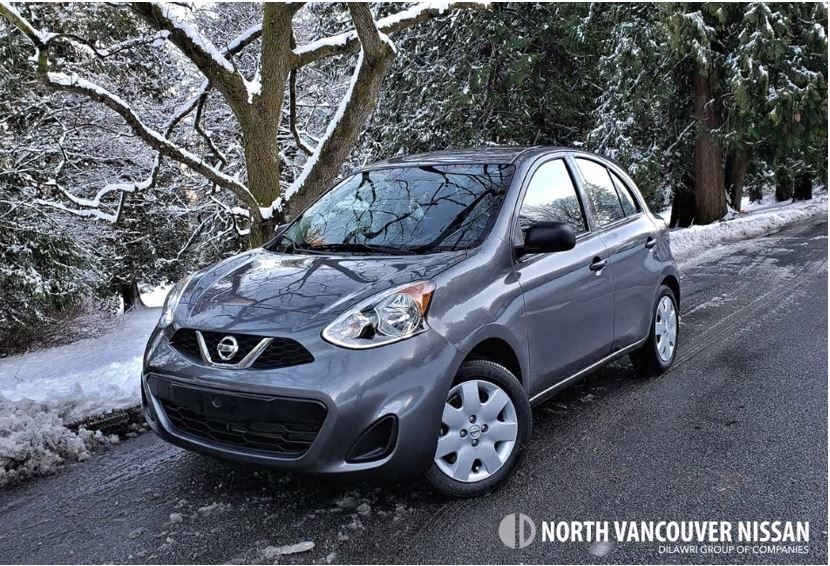 New Seven-Inch Touchscreen Makes a Big Difference
The sharp looking 2019 Nissan Micra is one of Canada's least expensive cars, but that doesn't mean it's boring to drive. In fact, this little city car will make you want to head up Cypress or Seymour mountain just for the fun of driving, let alone the piles of fresh powder you'll find up top.
Along with its always ready performance, the Micra gets some fresh new updates for 2019, the most notable being a big 7.0-inch infotainment system in all trims, with a colourful touchscreen, a sizeable rearview camera, Bluetooth streaming audio, Siri Eyes Free, and plenty of other features that really improve its day-to-day functionality. Making matters even more livable, the as-tested base Micra S gets a revised steering wheel with new standard audio and Bluetooth phone buttons.

Looking back, the first Micra I reviewed was four years ago when the 2015 model came out, and just like this one it was also a base S version. Its only option was a particularly attractive Metallic Blue paint that's still available in upper trims, but I must say that I also like this 2019 model's new Magnetic Gray. It costs just $135 on top of the base price, a number that hasn't changed one fraction since inception.
I should also mention that I reviewed the top-tier Micra SR in its 2016 and 2017 model years, the former car painted in stylish blue-green Caspian Sea (also still available), while the latter model was finished in bolder Gun Metallic grey (since discontinued). Charcoal black has long been the only cabin colour, but rest assured that premium trims get some great looking upholstery upgrades with colour accents sewn in.

Ultra-Affordable Micra Well Equipped in All Three Trims
For a shockingly affordable $10,488, the base 2019 Micra S comes standard with a tilt steering column, a trip computer incorporating current and average fuel economy plus distance to empty, variable intermittent windshield wipers, an intermittent rear wiper, the aforementioned steering wheel switchgear, micro-filtered fresh air ventilation, the previously noted 7.0-inch infotainment touchscreen, an AM/FM/CD/MP3/WMA audio system featuring speed-sensitive volume control and Radio Data System (RDS), a USB port, and an aux jack, while a four-way adjustable driver's seat is also standard, as are 60/40 split-folding rear seats, plus more.
If memories of hot summer heat cause you to want optional air conditioning, and frequent highway driving necessitates cruise control (with the second feature adding a different steering wheel that incorporates cruise control switchgear on its right-most spoke), all you need do is choose your base Micra S with an automatic transmission and all of the above comes standard.

This said I've got to admit to being a major fan of the least expensive Micra S due to the amazing value it represents, but most Micra buyers opt for a more upscale trim. As noted earlier, the $15,598 mid-range SV provides more attractive seat fabric, but it also features a standard automatic transmission, body-coloured mirrors and exterior door handles, remote powered locks, powered windows, heatable power-adjusted outside mirrors, chrome door handles inside, micro-filtered air conditioning, an additional two audio system speakers, a six-way driver's seat with a drop-down armrest, etcetera. What's more, Micra SV buyers can add 15-inch factory alloys and a rear rooftop spoiler by choosing a $400 SV Style Package.

Lastly, the Micra SR, which despite being the top-line model comes in at only $17,598, gets an identical rear spoiler plus a special 16-inch set of machine-finished alloy rims on 185/55 all-season rubber, plus this trim upgrade also boasts unique sport headlights and taillights, fog lamps integrated within the black "vents" found at each corner of the front fascia, cool side sill spoilers, some extra chrome exterior trim, a chrome-tipped exhaust pipe, a leather-wrapped steering wheel rim, a leather-adorned shift knob when choosing the manual transmission that's once again available, plus even better looking Sport cloth upholstery.

Customize Your Micra at North Vancouver Nissan
The Micra's two top trims don't allow for factory options, other than exterior paint colours that is, but don't let that concern you as North Vancouver Nissan has plenty of accessories available for customizing your personal ride. One of my favourite upgrades follows Nissan's Nismo line of sport models, which get contrasting coloured side mirror caps and door handles for a cool bespoke look. To do this with the Micra, simply choose from five Colour Studio City package colours that repaint the mirrors as well as add a set of sport stripes in the same hue for a mere $219, while you can have the same colour painted on the door handles by opting for the $461 Trend package on SV and SR models. Additionally, the $599 Intensity package adds that colour to the rear hatch finisher, not to mention a special "Premium Package" emblem for a Micra that will truly stand out in a crowd.
Opt for any of the above colour upgrades individually if you'd like, while you can also get coloured centre wheel caps, a rooftop spoiler and chrome exhaust with S and SV trims, etcetera, plus plenty of more conventional dealer-added accessories can be added too, including all-season floor mats, a cargo mat, bicycle and ski/snowboard/wakeboard carriers, and more.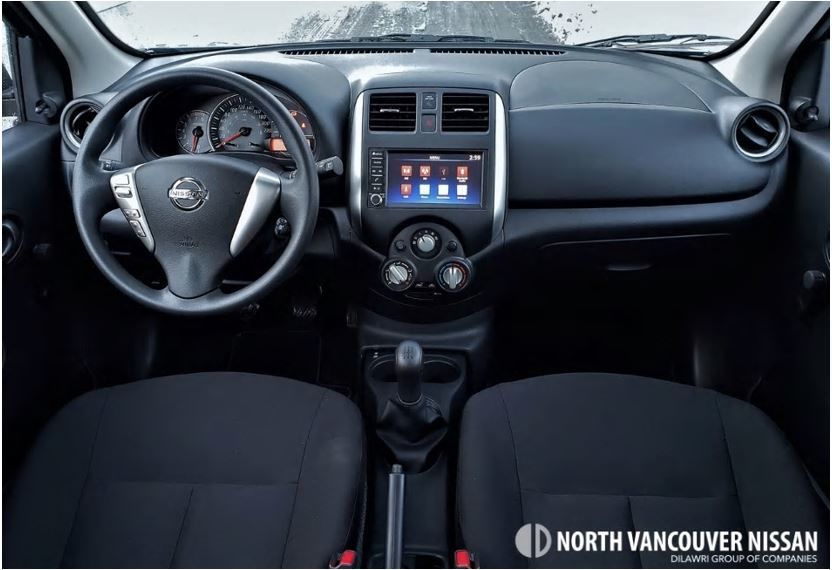 Ideally Combining Practicality, Economy and Fun
You know, if the Micra was only a solidly built economy car with its primary focus being a comfortable cabin and fuel-efficient transportation I wouldn't complain one bit due to its wonderfully low entry price, but the fact that it's also one of the most enjoyable small cars to drive is a bonus that's hard to pass up. Make sure you fully test its capability when taking it on a test drive, because you'll soon appreciate how good it is. If you ever plan on heading west on the Upper Levels toward Squamish and Whistler, let alone wind your way up to one of our local North Shore mountains, or rather if you find yourself driving down the cut, across the second narrows and beyond to hit the slopes at Sun Peaks in Kamloops, Big White outside of Kelowna, or wherever else your adventurous spirit takes you, make sure your car has the power to get you up the Coquihalla and other similarly steep grades.

Believe me, not all of the Micra's competitors have what it takes to drive BC's mountainous terrain at posted speeds, let alone enjoy the process when the road narrows and curves begin. In fact, Nissan was so sure of this little car's performance prowess that it created a competitive spec motorsport series dubbed Micra Cup, so make sure and check out the video below to witness this little super hatch in action.
Performance in mind, Nissan puts a high-revving direct-injection 1.6-litre four-cylinder engine behind the Micra's sporty grille, that's good for 109 horsepower and 107 lb-ft of torque. This is a lot more power than its city car challengers, while the five-speed manual in my test model provided positive engagement and easy, progressive clutch take-up.
The Micra's steering responds well too, while its MacPherson strut front suspension and torsion beam rear setup, with stabilizer bars at each end, plus its larger than class-average 15-inch wheels on 185/60 all-season tires, delivered good cornering prowess and excellent straight-line stability at highway speeds.

Such high levels of performance may not cause much excitement with some city car buyers, but it's important to remember that this level of handling capability can also be a benefit to safety, because relaying a story about the accident avoided certainly sounds better than talking about how well the Micra's other safety features, such as its airbags and crash protection crumple zones, worked. Of course, each Micra has been designed to withstand potential impact thus protecting all occupants within, while its standard braking system includes four-wheel ABS, electronic brake-force distribution and brake assist to further aid crash avoidance.
Such practical issues in mind, the 2019 Micra achieves a claimed fuel economy rating of just 8.7 L/100km city, 6.8 highway and 7.9 combined with its five-speed manual, or 9.0, 6.8 and 8.0 respectively for the automatic transmission, both sets of numbers very good for any class of car.

Plenty of Reasons to Love the New Micra
In a nutshell, the Micra would be my first choice if I were purchasing a new city car. It comes down to its fuel economy, spacious and comfortable cabin, impressive cargo volume and flexibility, highly competitive 7.0-inch infotainment display, strong performance, and superb styling.
I can't lie. I've always loved the way this little car looks, from its menacing open mouth-like front grille to its eyes-wide-open headlamps, plus its retrospectively rounded profile and classically sized taillight lenses, the Micra delivers a neo-classic look that comes off even better when adding the colour treated accessories just noted. Even better, I love that Nissan backs up the Micra's styling with performance that matches its go-fast appearance.
So who should consider the new Micra? It's for those purchasing their first new vehicle, parents wanting a safe and reliable way to make sure their child gets to school each and every day, retirees living on a fixed income that would rather not overspend yet still need the peace of mind that a new car warranty brings, and those who simply don't want to be bored when on their daily commute. The Micra is a great choice for any of these lifestyles, making it an easy recommendation.

To find out more and take one for a test drive, contact Vancouver Nissan by phone at (888) 450-6443 or visit us in our showroom at 819 Automall Drive, North Vancouver.
Story credits: Trevor Hofmann, Canadian Auto Press
Photo credits: Karen Tuggay, Canadian Auto Press
Copyright: Canadian Auto Press Inc.