2017 Nissan Pathfinder Platinum 4x4 Road Test Review
January 12 2017, Trevor Hofmann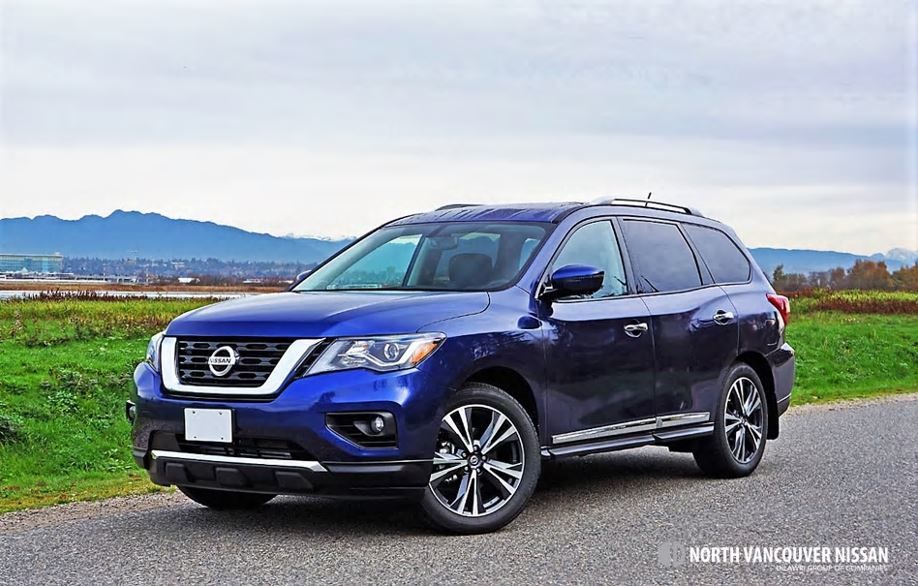 Copyright: Canadian Auto Press Inc.
Refreshed Styling, a Stronger Engine and Better Handling Improve Popular SUV
It's amazing how a few nips here and additional tucks there can transform a vehicle's visual character from passive to aggressive, the renewed 2017 Pathfinder a good example of a mid-cycle update done well.
The single word to describe the new look is masculine; its signature chromed V-motion grille now fully defined with a thick, wide bottom-section that digs further into the more sculpted bumper below, while it's also positioned more upright and truck-like. Likewise the grille's matte black insert features more rugged detailing, the headlamp clusters are multifaceted and include optional full-LED hardware with LED DRLs, while the lower fascia receives more interesting detail. Despite its more traditional SUV-like styling the 2017 Pathfinder actually improves aerodynamics with a new coefficient of drag (Cd) measuring 0.326 compared to 0.34, aiding quietness and efficiency.
New side mirror caps now sport thin LED indicators, while my Platinum trimmed tester boasted new V-shaped twinned 20-inch machine-finished five-spoke alloys with black painted pockets. The new Pathfinder's backside gets a set of mostly red-lensed taillights filled with LEDs that look more sophisticated at night. Additionally, a modified rear bumper gets trimmed with a chromed reverse V garnish, while other small changes modernize the look.
Useful Updates Make the 2017 Pathfinder Better to Live With
Inside, the Pathfinder's door uppers, inserts, and armrests are nicely finished in softer, padded synthetics, while higher trims like my Platinum get even plusher leather inserts. There's also plenty of satin-finish metallic trim and chrome accents throughout, as well as new textured "open-pore" woodgrain that's much nicer than the glossy wood used before. Additional interior high points include a very attractive electroluminescent gauge cluster featuring a high-resolution, feature-filled colour multi-information display at centre, a one-inch larger 8.0-inch infotainment touchscreen with new graphics and features at the top of the centre stack (more on that in a minute), nicely fitted switchgear down that centre stack, on the steering wheel's spokes and elsewhere around the cabin, highlights of which continue to include knurled metallic rimmed radio and automatic HVAC knobs, all trims getting a standard tri-zone system with yet more switchgear in the rear, plus chromed detailing around the lower console-mounted rotating heatable and cooled seat controls that's even nicer, whereas the carryover drive mode selector attached to the backside of the gear shifter surround maintains its default Auto, 2WD, (AWD) Lock, and 4x4-i off-road setting for tackling light- to medium-duty trails.

More Power Without Hampering Fuel Economy Is Never a Bad Idea
The 2017 Pathfinder should perform better off-road than the outgoing model thanks to a new direct-injected 3.5-litre V6 that pushes out 24 additional horsepower and 19 more lb-ft of torque for 284 of the former and 259 of the latter, this partially due to a new mirror bore cylinder coating in place of cast iron liners, and a 11.0:1 compression ratio instead of 10.3:1. The SUV also benefits from 11-percent quicker steering, 11- and 7-percent stiffer front and rear shocks, plus upgraded rebound spring struts with a 25-percent greater rear spring rate, while you'll be surprised how well modern-day electronic active safety systems, such as ABS, traction control, stability control, hill start assist, hill decent control, etcetera, can help when tackling the wild. Likely the only things wild most Pathfinders will need to contain will be rowdy toddlers and teens, but such was also the case when terrain conquering truck-based SUVs used to rule our concrete jungles so car-like unibody SUVs like this Pathfinder continue to make a lot more sense.

Let's not forget these modernized crossover SUVs tend to be lighter and more fuel-efficient too, the new 2017 model achieving an even better five-cycle EnerGuide result of 11.5 L/100km in the city compared to last year's 11.9 rating, and its 8.6 L/100km highway estimate is nearly as good as the less powerful outgoing model's 8.5 when set up in base FWD trim. Again, despite the performance boost, lower end 4WD models get identical 12.1 city and 8.9 highway ratings as the previous version, while my as-tested Platinum is better in the city at 12.4 L/100km compared to 12.7, and a fraction thirstier on the highway at 9.2 compared to 9.0 L/100km. With most owners racking up the majority of their miles in the city it's a win-win scenario for your pocketbook and the environment.

Better Performance All Round
At the same time that engine gets up and goes much more enthusiastically than the outgoing unit, while the standard continuously variable transmission (CVT) remains wonderfully smooth and similar in feel to a conventional automatic thanks to well-placed stepped gear increments. The improved engine and previously noted suspension upgrades worked in tandem for much sportier performance, the SUV's reduced body roll improving road-holding by 0.5 Gs for much more confidence-inspiring handling and therefore greater capability to avoid a potential accident.

Still, the new Pathfinder delivers a very smooth and compliant ride, absorbing the majority of potholes, frost heaves, and bridge expansion joints as if they're small pavement irregularities, while it remains an extremely quiet and comfortable conveyance for seven. The large driver seat is eight-way adjustable with powered lumbar support that perfectly met up with the small of my back. The steering column in this Platinum model is also powered, while the side mirrors join in for programmable two-way memory settings. Along with the heated and cooled seats mentioned earlier, additional cold-weather comfort comes from a heatable steering wheel.
Up above, an overhead console gets a felt-lined sunglasses holder, bright and clear LED reading lights, dome light buttons, an SOS panic switch within easy reach, and toggles for the powered glass front sunroof. Rear occupants should enjoy the Platinum model's very large twin-panel fixed glass roof even more, a nice addition that really brightens up the cabin.

Rear Passengers Enjoy Superb Comfort and Amenities
In this respect those in back have it better than those up front, while second-row seats feature Nissan's innovative EZ Flex folding mechanism that not only allows them to collapse and slide forward for easy access to the third row, but do so in a way that lets you keep a regular child safety seat in place while doing so. There's a lot of room when seated, with about six inches remaining ahead of my knees when the driver's seat was positioned for my five-foot-eight medium-build frame, and another four inches above my head. I'm not even going to approximate side-to-side space as it's beyond plentiful, so therefore three abreast seating shouldn't be a problem at all. My tester included heatable rear outboard seats too, plus the aforementioned standard HVAC panel for rear temperature control, and a foldable centre armrest with dual cupholders.
The younger set will probably be more transfixed with the Platinum model's standard dual-screen entertainment system, boasting individual seven-inch monitors nicely integrated within the backside of each front headrest.

If you've got the middle row set up to maximize legroom there's not much space in the very back, but fortunately you can slide the former back and forth to provide just the right amount of leg and foot space for both.
While I had no problem fitting into the third row when the sliding middle row was positioned all the way rearward, I was much more comfortable when that middle row was pushed forward a few inches, while I had about three inches above my head no matter the varying legroom, as well as excellent side window visibility so I never felt claustrophobic. Each rearmost seat also includes a side vent for air, two cupholders, plus a speaker by the outside shoulder position so the quieter moments during movies can still be heard.

Cargo Space and Flexibility Is Second to None
My tester's powered liftgate opened up to a very large and accommodating cargo area including 453 litres behind the third row, which is about the size of a mid-size car's trunk. However, lower the 50/50-split rear seatbacks and 1,201 litres is at your disposal, whereas dropping the 60/40-split second-row seatbacks opens up a maximum of 2,260 litres. You'll never be short of gear-toting space.
Nice chromed tie-down rings give the cargo compartment an upscale look, while the rearmost portion of the carpeted cargo floor can be lifted up to expose a fairly deep storage compartment, partially taken up by the Bose subwoofer. A big fan blade style fastener allows you to remove it if you need more cargo space, but I certainly wouldn't want to hit the road without the 13-speaker Bose audio system's excellent sound.
That's just one of many upgrades that come standard with the still reasonably priced $48,478 Pathfinder Platinum, some other features not yet mentioned including chrome bodyside mouldings, upgraded NissanConnect infotainment, a 360-degree Around View parking monitor with moving object detection, navigation, mobile apps, voice recognition, and satellite radio, plus forward emergency braking, this latter addition allowing for an IIHS Top Safety Pick rating, whereas all Pathfinder trims are good for 5 Stars from the NHTSA.

Loads of Features Make for a Great Value Proposition
Features pulled up from lesser trims, which include the $32,498 base S model, $38,178 SV, and $41,478 SL, include all-wheel drive, auto high beams, fog lamps, roof rails, remote start, proximity-sensing access, pushbutton ignition, variable speed-sensitive intermittent wipers, adaptive cruise control, a universal garage door opener, a leather-wrapped steering wheel, an auto-dimming rearview mirror, auto tilt-down side mirrors, rear parking sensors, a four-way powered front passenger seat, perforated leather upholstery, blindspot monitoring with rear cross-traffic alert, a powered liftgate, a trailer hitch receiver and seven-pin wiring harness for the new Pathfinder's 1,000-lb stronger 6,000-lb tow rating, and much more.

With all its improvements the refreshed 2017 Pathfinder becomes an SUV I'll be quick to recommend. It's now a much more attractive package with a stronger yet more fuel-efficient powertrain, while it retains all of the previous versions best assets. Lastly, it remains one of the better priced mid-size seven-passenger SUVs when comparing features, which all adds up to a competitive advantage over most rivals and a smart choice for consumers.
Story credits: Trevor Hofmann, Canadian Auto Press
Photo credits: Karen Tuggay, Canadian Auto Press
Copyright: Canadian Auto Press Inc.